About us
Piece of information about BIRA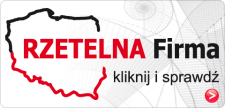 Do you know that
"Bira Trade" name operates from 2006, but the history of the company begins in the early 80-ties, when Tadeusz Bira established the company and started to install alarm systems?
Do you know that
initially the business profile of the company assumes alarm system installation, then production of components and intercoms for alarm systems and finally designing and production of electric strikes?
Do you know that
the first electric strikes in Poland were designed and patented by Tadeusz Bira – founder of our company?
Do you know that
we have our own production site, which enables us continuous development of products offered actually as well as newly launched products and prompt response to our customers' needs?
Do you know that
actual owner of the company is Tomasz Bira – son of the company founder – this emphasizes the family character of the company?
Do you know that
there are more than 500 different products in our offer and we constantly extend our product portfolio to meet expectation of our customers?
Do you know that
our electric strikes are certified by accredited and notified in the UE certification bodies?
Do you know that
There are certified electric strikes for fire-resistant doors with fire-classification EI30, EI60 and EI120 in our offer?